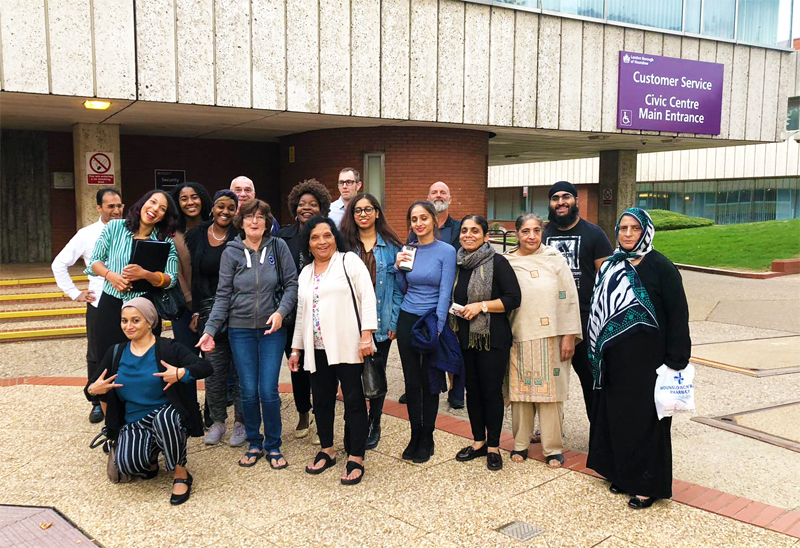 Central Hounslow Public Forum meeting – Regeneration concerns raised
The Central Hounslow Public forum meeting took place on Thursday 30th Aug 18. A strong case of residents concerns was presented by the CCRA's Chair Fran Smith & Vice Chair Yasmin M, the series of issues were directed at the Hounslow Councillors and members of the Home Group Regeneration Team Tom Ruse & Emma Murgatroyd. Our response from the Councillors was positive and they have assured us that they will be able to work with us through the regeneration transitional period.
The aim of our presentation was to make our presence known and convey the concerns of the majority of residents to the Hounslow Councillors in regards to the regeneration whilst also giving them insight into our small community and what the CCRA have been actively been trying to do to improve the living environment, in addition to raising ongoing challenging matters such as ASB / Crime &  poor property maintenance . Although Home group have been made aware of residents concerns through questions residents have raised in coffee mornings & 1 2 1 conversations throughout the design phases, residents have become very weary as a letter that was issued to all residents on the 20th Aug 2018  confirming 10 Regeneration commitments barely touched upon where residents would be temporarily housed, or even a realistic indication as to what Home Group have been working towards to ensure that the majority of residents are rehoused within the parameters that would meet residents needs to minimise the disruption to lifestyles, livelihoods and well-being. Having complete transparency gives reassurance and this is what residents need, especially as we didn't ask to be displaced.
Broken trust
From July 2016 the CCRA have worked tirelessly to bring issues to the attention of Home Group and this summer residents came together to launch a petition to request the termination of Home Group's contractors ROALCO & MEARS  –  90% of residents supported this petition and this was sent to Home Group as an incentive to dramatically improve on the poor service that residents had become accustom to. Home Group initially were responsive by arranging productive meetings with members of the CCRA but unfortunately the good intentions to rectify current neglected areas have yet to be fulfilled. If actions speak louder then words then this is  speaks volumes. We do hope that this is not a indication of what the future holds in terms of promises being broken. The CCRA will remain vigilant in continuing to apply pressure where necessary with the support of or local councillors and MP. These series of events has tested the patience of residents further and unfortunately gave the CCRA no option but to  take the matter to the Hounslow Central Forum
The CCRA would like to thank the overwhelming support from residents, we are aware that some of you were unable to make the meeting, please do take time to visit our website blogs to catch up on news and information.
Minutes for the meeting can me viewed here. If you have any concerns please feel from to contact us direct or email [email protected]