Meeting with Home Group Regeneration Team – 5th September 2017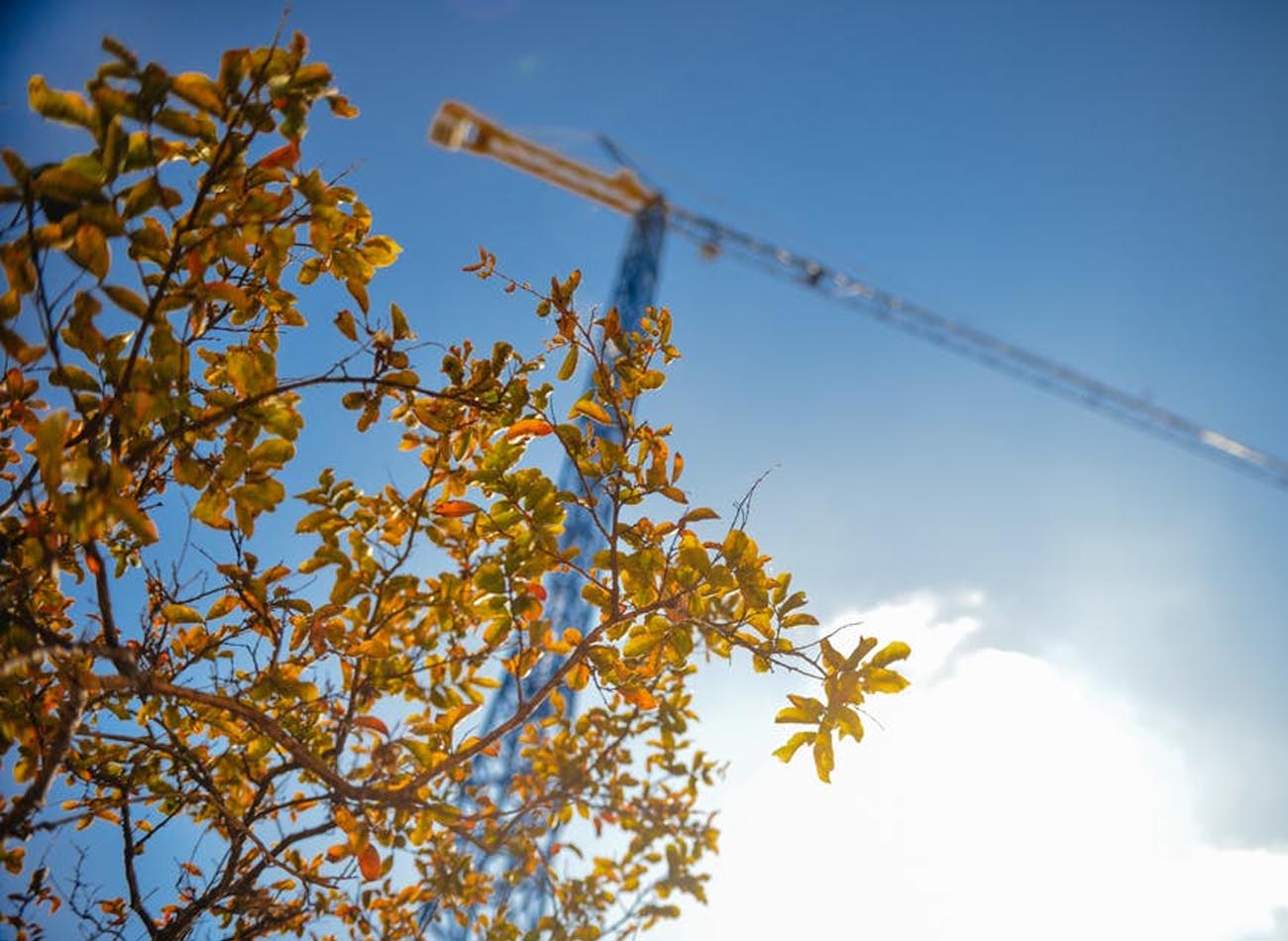 On Tuesday 5th September 2017  at 7 pm the CCRA joined Home Group's Regeneration team, at the Hounslow community centre, Montague road to discuss Home Group's resident engagement strategy for the prospective regeneration of Concorde close. The CCRA iterated that residents must come first with regards to forthcoming decisions as the first session Home Group organised in July was fuelled with mixed emotions from residents who had not been contacted formally by Home Group to discuss the future of the close, such as the possible refurbishment as opposed to regeneration. Residents felt that Home Group had made a decision of regeneration without contacting residents prior for a consultation. This clear lack of communication is unfortunatley a trait that many residents are accustom to when dealing with Home Group, whether it be for the general upkeep of the property / communal area's to property maintenance and repairs Home Group's track record of delivering a good level of customer services has failed, leaving behind a myriad of angry and unsatisfied customers, not just in Concorde close but nationwide.
Home Group now have a challenging feat to restore their customers confidence, as residents have lost faith in all that Home Group stand for. With the breaking news of regeneration resident's now rightly fear for their future due to displacement and uncertainty. Residents have been promised to be placed in temporary housing for the duration of the regeneration with the security of being able to return to the new site to live in suitable homes based on occupancy and need. For many that live in the small residential close being uprooted from the prime location of Hounslow central will disrubt their livelyhoods, childrens education, and access to health care services that is conveniently only walking distance away. For the elderly and those struggling with mental health who relie on their friends, family  and neighbours this will all cause a massive inconvenience. The displacement fee which has been set by the Government is £5,800 + moving fees. Home Group have confirmed that residents will be compensated on a 1 2 1 basis. Home Group also confirm that that project will be completley self financed and not for profit with a portion of the new properties being sold to finance the development of existing customer home's with the addition of new private sector customers. The Concorde close community as we know it will look completley different and will need to ensure we retain our community throughout this transitional period.
The CCRA aim to ensure that Home Group's regeneration team sustain a dialogue between residents going forward, to ensure residents have the opportunity to be fully involved in the regeneration project. The meeting agenda was based around the following:
The future of Concorde Close
Your Housing needs
Customer decant
Engagement plan
AOB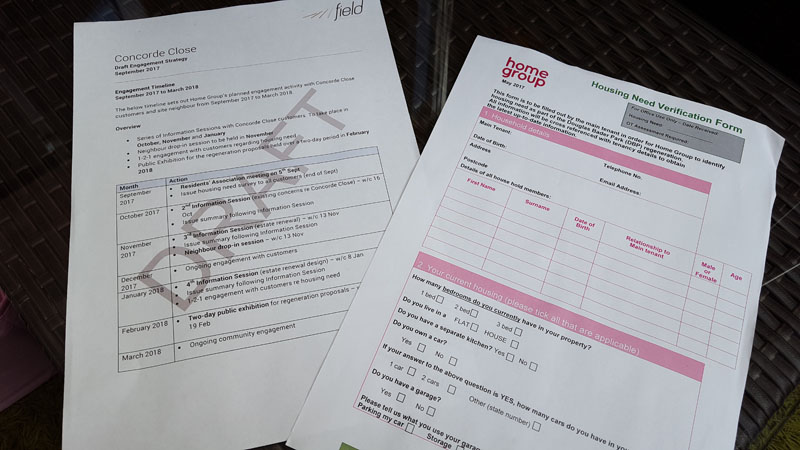 The future of Concorde close / Housing needs
The CCRA wanted to get an idea of timeframe and when sessions that involve residents would take place. Home Group were able to provide a draft outline of prospective dates,which is due to commence from October 2017. Prior to this Home Group have a target of the end of Septemeber to issue a housing needs survey to all customers in order to have a clearer idea of what the requirements are for each household. This information is then given to the architects to ensure the designs reflect the overall needs of customers. Home Group confirmed that each resident will be contacted and the relevent letters issued every step of the way.
Customer decant
Based on resident feedback and 1 2 1 meetings Home Group will prioritise how the scheme will work in terms of which tenants will be moved into temporary housing first ,the decision will be based on individual circumstances. The demolition work will be carried out in phases and will not be carried out simultaneously. The method allows sections of the existing site to be demolished and developed on while a section of the existing site remains. This minimises the need to rehouse all 43 households all at once. Once the section on the demolished site has be developed the relevant temporary housed residents can move to the new site.
Note: To disscus – How will living near a demolition site effect current residents?
Help with moving
Home Group have committed to helping residents with moving arrangements, such as van hire, help with packing and white goods connections such as gas cooker connection as well as reimbursements of costs spent from moving to the temporary housing and back to the new property. More details will be given to residents closer to the time, the CCRA will ensure that Home Group gives residents plently of notice prior to ensure that residents are prepared.
Requests from the CCRA to Home Group
Average rent to be generated to manage resident expectation of new rents and services charges. This will be based on 1 bed, 2 bed, 3 bed properties (Social rents, not market value rents)
Voluntary Right to Buy – Information in regards to a) being able to carry accross VRTB priviliges to either the new build or allocate property where this can be carried across to as some residents have lived in properties from 10 – 30 years and should not have the ability to VRTB or RTB taken away from them due to these Regeneration plans.
Engagement plan
Home Group intend on notifying all residents about future information sessions via post/ 1 2 1 conversations, and having residents sign up and commit to sessions where focus group led meeting will be arranged with the regeneration team as well as the Architects.
There has been confirmation that Home Group will arrange visits to other london based sites that have been regenerated by Home Group, giving customers a chance to speak to customers that have been through the programme.
Some of Home Group's regeneration's scheme consist of the following:
South Oxhey Central
www.lovesouthoxheycentral.co.uk
Spectrum, Rayners Lane
www.homegroup.org.uk/Find-a-Home/Property-Developments/Spectrum-Houses
More Home Group case studies
https://www.homegroup.org.uk/Corporate/Development-Partners/Current-Home-Group-development-case-studies
AOB
Opening up the site – Through and independant consultancy Home Group have contacted the home owners and business' located on Lampton road from no 63 Lampton road onwards to obtain feedback on whether the owner would be willing to sell their property / land so that the regeneration site can be extended so that more homes can be built.
Requests from The CCRA
Community centre – To carry on community led initiatives the CCRA have requested that a community space be intergrated into the the regeneration. The community hall will house meetings, workshops and events to sustain the strong community we have built over the last year.
Security – Security should be at the forefront of this project, there should be prohibited areas for residents only, CCTV and security doors and entry gates to the road. Residents that have a history of ASB should be vetted.
Parking – The CCRA has requested that designated parking to be allocated per household and where possible garages / sheds should be allocated to those that currently have them.
Safe play areas for children – A request from the CCRA for secure area's for children to play, whether these areas include, outdoor gym or other apparatus for resident children only.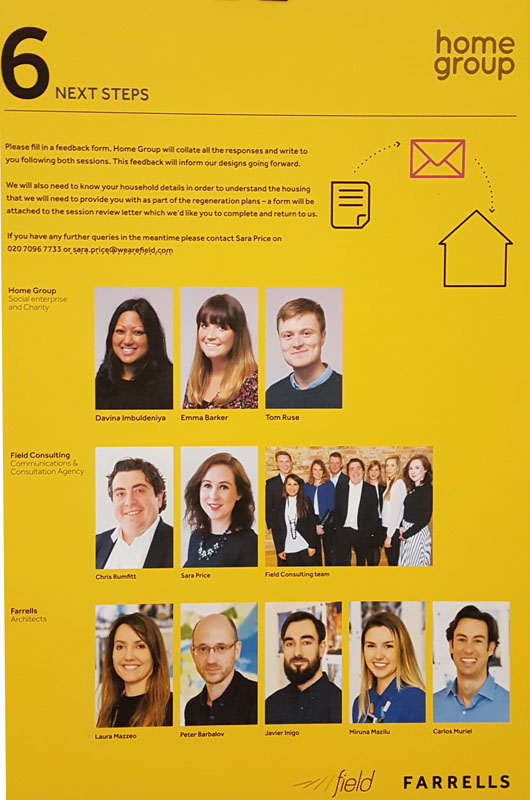 For those of you that were unable to attend the Home Group information session in July. The regeneration team is made up of the following:
Home Group
Davina Imbuldeniya, Emma Barker,Tom Ruse
Field Consulting – Communication & consultancy Agency | Website: www.wearefield.co.uk
Sara Price, Chris Rumfitt
Farrells – Architectual firm | Website: www.farrells.com
If you have any questions please feel free to email the CCRA who would be happy to put through any queries or concerns you have in relation to the Concorde close regeneration programme.